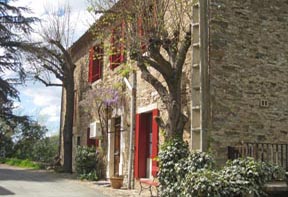 The House
Our house is a stone house in 2 storeys plus cellar. It's located in the village Le Lau with the north/west-side towards the valley. The style is kept bourgeoisie with the old original quarry tile. In the cellar the big oak barrel and the big grape press from the wine production is retained.
See pictures from the house here
In the ground floor you enter the house from the street into a big entrance with light quarry tile and the staircase up to the 1st floor. To the right you find the kitchen, which is a traditional French kitchen with cupboard and shelves. After the kitchen you find a bathroom with a toilet.
From the entrance there is also access to the small sitting room with the small fireplace. It's the cosy room with Television and PS2 play computer. The PS2 computer can also play DVD-films.
Going to the left from the entrance, you are coming into the dinning room, where it is possible to sit 8 persons around the table. There is a traditional open fireplace, where you can see the wood burn. It's very cosy, especially with the big mantel, which leads the smoke up in the chimney. The room also contains a radio with cd-player.
On the first floor there are 4 bedrooms, each with a double bed. In the hall there is a separate toilet. If you walk through one of the bedrooms, you find an extra bathroom with toilet. And through another bedroom you find a wash/dry room, with a washing machine.
From the kitchen there is access to the balcony towards east, where you have the morning sun, and you can enjoy the view towards the villages and the mountains.
From the street you can go into the cellar from the way down. The Cellar is big and has earlier been used to receive wine grapes in. There is still a big wine press to the right, which has been used to press raw juice out of the grapes. There is also a big barrel in Oak at the end of the room. If you go through the next room, you enter the new terrace towards west. Here, there is nothing to disturb and you can enjoy the afternoon sun in peace. There is also a path down from the road to the terrace.