Region
SHOPPING There are no shops in Le Lau, but on Wednesdays and Fridays Mobil shops pass and stop in the village. They are hooting, when they arrive.
Smaller shopping can bee done in Mons (baker, grocer, butcher), Roquebrun (grocer, baker) or Olargues (several bakers, grocers and butchers). Be aware that they are typically closed between 12 and 16 o'clock (can vary).
Large purchases can be done in Lamalou-les-Bains (market, Lidl and more), Hérépian (InterMarche, Centre Commercial) and Bédarieux (several big supermarkets).
In Béziers you find huge shopping centres. For instance, Intersport and Decathlon has a wide range of sport equipments at reasonable prices.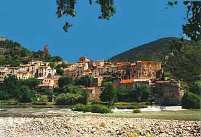 ROQUEBRUN is situated 10 km from Le Lau and is called La Nice de l'Hérault (Nice of Herault) because the valley has it's own micro-climate which for instance means that Roquebrun is able to hold Fête du Mimosa in February. Roquebrun is situated beautifully on the hillside with the Orb-river passing by.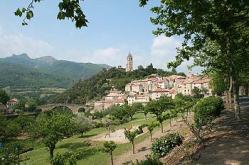 OLARGUES (16 km) One of France's most beautiful villages. It has some beautiful old stone houses, many with an impressive entrance and with decorations. On top of the village is a bell tower as well as ruins from the church from the 13th centuries. From here you have a fantastic view over the landscape of Languedoc.

THE WINE AREA is called Saint-Chinian and is together with Fitou the 2 best appellations in Languedoc. You can taste wine in Roquebrun, Saint-Chinian and Berlou. The locals prefer Berlou. But there are also tastings and sales along the roads. Remember to bring a clean 5 litre plastic jug, if you want to buy cheap.
MONTPELLIER (110 km) "Capital" of the Languedoc-Roussillon region. There are 250.000 inhabitants. It's a university town and very popular amongst the young people with is close placement (10 km) from the Mediterranean and its warm climate. An incredibly exciting city with many small streets, cheerful squares and eating places. Read more here.

CARCASSONNE (91 km) The city is most famous for its huge, well-preserved fortification, which can be seen from the highway. In the summer, there are performance of knight combats and other Middle Ages games. See more here.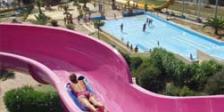 AQUALAND In Cap d'Agde (67 km) you find Europe's most famous water complex, with challenges for the careful ones and for those who like it wild :-). See more here.
ANDORRA (Ca. 200 km) Between France and Spain, in the Pyrenees, is the state Andorra located. It is best known for it's duty-free shops, but is also known for ski resorts and Tour de France.
INFO ENGLISH
Tourist bureau of Herault. Up-to-date info on activities, accommodations and brochure for the Herault departement.

INFO FRANSK
Info on Vieussan, where the mayor's office is located.
The nearby village Mons has both baker, butcher and grocer.
Touristside for Herault.
Hiking in the area.